1939 Vintage Theodolite Surveyor's with tripod and original wooden box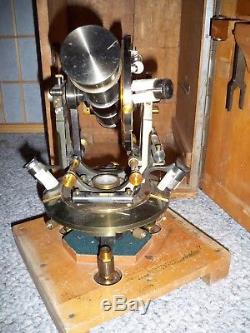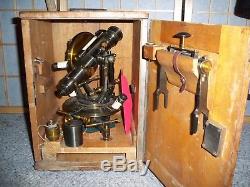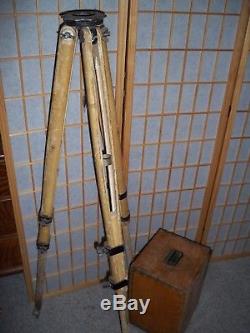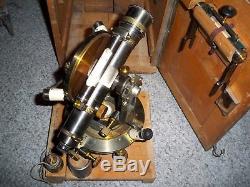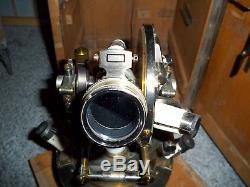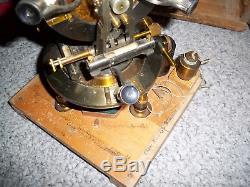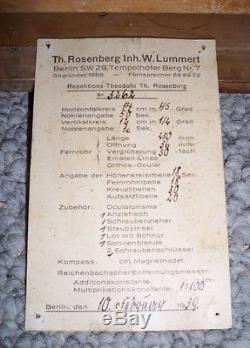 Vintage Surveryor's Theodolite with tripod and dovetailed original wooden box, Serial number 3263, made by the Berlin instrument maker Thomas Rosenberg and retailed by W. Lummert, signed "Rosenberg & Lummert", 7 Tempelhofer Hill, Berlin, Germany, c. Light wood dovetailed wooden carrying box with bale handle..... Tripod: 51 wooden tripod stand with black painted iron clips and cast iron round support at the top, with an adjustable metal pointed base to each leg of the stand to provide for accuracy, level and stability.
Surveying Instrument: This Theodolite measures 15.5" x 10.5" x 10" and is marked for "Th. Lummert" Berlin 3263" with 23 cm telescope (36mm lens), inverted image, stadia hairs and cross hairs assumed in eyepiece, right angle prism which may or may not have a swing-away solar filter (solar filter would indicate mountain or land surveying rather than a theodolite used in a mine, for instance). (Translating the label from the German) Telescope is reversible in the trunnions (horizontal movement angles), 14 cm diameter vertical circle, divided into half degree increments with vernier read with 2 magnifiers.
14 cm diameter horizontal circle, divided into 45 degree increments with vernier scale read with 2 magnifiers. An Ebonized metal A-frame supports the Theodolite. A small circular compass is noted below.
Patinated bronze finished circular base and feet resting on a square wooden base with block feet. There appear to be be 6 liquid levels on various parts of the instrument. Accessories include: telescope objective lens cap (dust cover), sun shade, two wrenches, and large plumb bob with cord seen inserted into the base of the case. PERHAPS missing from the box MAY BE a bristle brush with plastic handle, and a corked glass bottle of oil -these often accompany the contents of the transit box.
Also noted is a'Tommy bar' fitted into the upper wooden holder between the wrenches. Label in box reads (in part): Th.
7 Gegrundet (founded) 1885 - Fernsprecher: 66 09 02, 3263. Contents of the box is listed in German and not very well translated by me! Condition: Box, stamped with the serial number is of modest, but solid construction and is in very nice condition commensurate with its age. Lummert was the retailer of the instrument. Some rubbing and patination spotting, optics are important but could not be evaluated from the photos, there may be age-related cracking to ivory-colored mounts, with wear commensurate with age and use.
Short Theodolite History: Leonard Digges introduced the word "theodolitus" in his Pantometria (London, 1571). This surveying instrument had a circular ring or plate divided into 360 degrees, and a pivoting alidade with sight vanes at either end.
Theodolites of this sort, as well as others with a second pair of sight vanes affixed to the graduated circle, were soon in widespread use. In 1791, George Adams Jr. Called this instrument a "common theodolet, " reserving the term theodolite for the telescopic instruments with horizontal circles and vertical arcs that had been introduced in London in the 1720s.
While the telescopic theodolite was popular in England, Americans preferred the surveyors compass and, later, the surveyors transit, which were cheaper and more robust. In the 18th century form, the telescope is mounted directly on the vertical arc. In the transit theodolite, which originated in London in the 1840s, the telescope is transit mounted, with a vertical circle mounted at one side.
Heinrich Wilds optical theodolite, introduced in Switzerland in the 1920s, had several new features, including an auxiliary telescope that lets the user read either circle without moving away from the station. Some theodolites measure horizontal angles with geodetic accuracy. The first instrument of this sort in America was made around 1815 by Troughton in London for the fledgling United States Coast Survey. The item "1939 Vintage Theodolite Surveyor's with tripod and original wooden box" is in sale since Wednesday, April 18, 2018.
This item is in the category "Collectibles\Science & Medicine (1930-Now)\Engineering\Surveying Equipment". The seller is "tumbleweed937" and is located in Miamisburg, Ohio.
This item can be shipped to United States.
Country/Region of Manufacture: Germany