Simple Adjustable Tripod for Antique Telescopes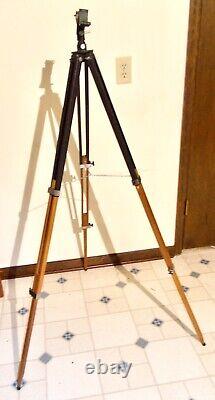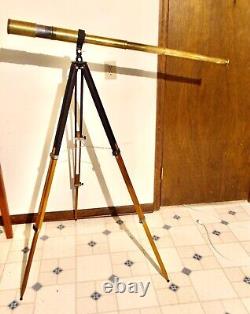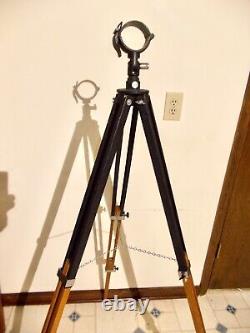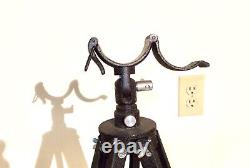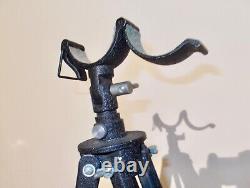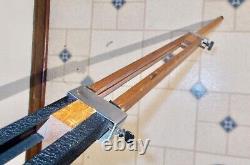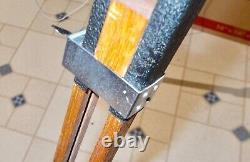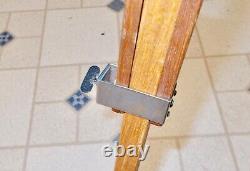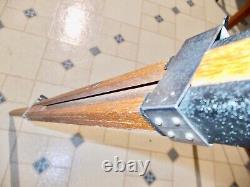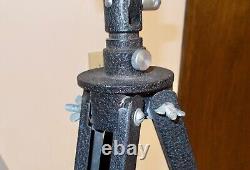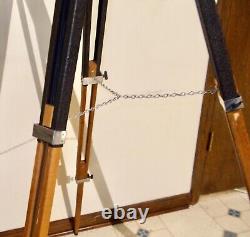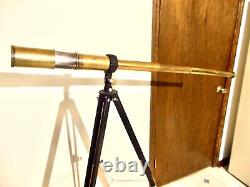 Simple Adjustable Tripod for Antique Telescopes. A large antique telescope cannot be held by a single person and must be mounted to reach its full capability. Unfortunately, authentic antique telescope tripods are expensive, difficult to find, and generally hold other antique telescopes. This tripod is an adequate alternative. Although light weight, this adjustable vintage tripod can mount telescopes of variable sizes including even large telescopes such as the 44 inch E Vion.
(telescope not included - listed separately). This tripod is in complete original condition but no makers mark is apparent. The use of a C-clamp for mounting is important because this type of clamp can be adapted to a variety of antique telescopes without drilling holes. Rubber plumbing connectors cut to the correct size provide reasonably stable mounting when positioned between the clamp and the telescope. Mounting stability is appropriate for terrestrial use but not adequate for serious astronomic viewing.
I have recently discovered on the site Good and Will that these tripods are more common than I thought, so I have lowered the price. In my view, this is a well designed light weight tripod. Conveniently, the legs can be retracted for easy transport without disassembly. The variable length legs allow the telescope height to be adjusted and then set using wing nuts. Although the wing nut assembly is light weight, they provide a solid grip if care is take to ensure adequate tightness.
The wing nuts that set the legs at the desired spread are similar; however, a metal chain between the legs prevents the legs from sprawling outward even if the wing nuts are inadequately tightened. Be sure to examine the images as they form an important part of the description.