Vintage 50s Plastic Wood Metal Tripod Planter Mid Century Modern Atomic Era Gold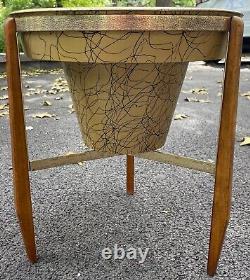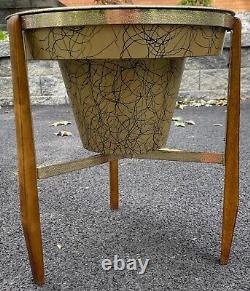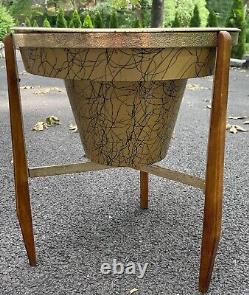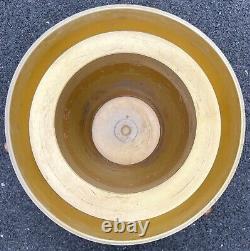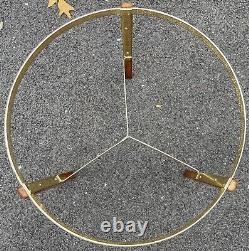 Item: For your consideration we are presenting for sale a nice, authentic vintage atomic era tripod planter and stand. Materials: Gold Plastic, Wood, Metal (brass). The plastic planter is gold in color, with random dark black black paint squiggles throughout (see photos). We are uncertain as to the maker - there doesn't appear to be any labels or tags present. With the gold plastic planter inserted in the frame, it measures approx.
15.5" wide x 15.5" deep x 17.5 tall. The plastic insert has two different compartments - one is a shallower outer ring (presumably for small stones), and the other is a deeper, inner ring which is used for a plant. The outer ring measures approx.
3" wide x 2.5" deep, while the planter portion measures 9.25" wide x 9" deep. Condition: The planter is in very good condition.
The stand itself is structurally sound, and it displays nicely. The outer wooden accents on the legs are free from chips, cracks, breaks, repairs, etc. The metal portions of the stand are free from breaks, bends, rust, oxidation, etc.
As can be expected, the plastic planter itself shows signs of very mild discoloration on the inside from use (see photos) - we have not attempted to clean it in any manner - it is being presented for sale exactly how it was acquired. It is free from chips, cracks, breaks, repairs, etc. It displays very well, and functions properly.
Please ask them and we will respond back to you in a timely manner.